Affordable Junk Removal Pricing in Charlotte by Clutter Me Not Junk Removal
If you've got any junk, we got the solution. Clutter Me Not Junk Removal has been providing junk removal services to the Charlotte area for over a decade. We help our customers keep their homes and businesses clean and clutter-free. Whether you have a small amount of junk, we can provide the same level of professionalism as when we remove large amounts. Clutter Me Not Junk Removal, the most affordable junk removal company in Charlotte, offers the best junk removal services.
We have built a reputation for providing friendly customer service, affordable pricing, same-day service, and eco-friendly solutions when possible. We are licensed and insured, so you can trust that your property is safe with us. So if you ask, "how much does a junk removal cost in Charlotte" we are here to help you.
Our cost for junk removal typically depends on how much space the junk takes up within 18 cubic yards. That is the equivalent to a 12-foot box truck. We beat the average industry price 99% of the time. One-fourth of the truck, roughly 4.5 cubic yards, is around $215. This cost is all-inclusive, so we don't charge extra for gas or mileage.
There are never any hidden fees or surprise surcharges. You don't have to worry about trip fees, labor, and disposal fees. These are all included in the estimate. We can work wonders for your junk at a minimum price of only $85, which makes us the most affordable junk removal company in Charlotte, North Carolina.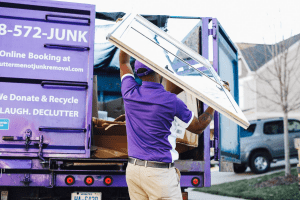 Affordable Junk Removal Price in Charlotte, NC. Backed by your satisfaction guaranteed!
Fast and Reliable Service

We provide free estimates on any project and can offer flexible appointment times to fit your schedule. We offer affordable rates and same-day service in most cases.
When you call us to do the junk removal for you, we ensure that we are on your doorstep in no time. We are proud to be the best junk removal company in Charlotte because of our reasonable rates, fast and reliable service, and no surprise surcharges.
Not only affordable Junk Removal but also Best Customer Service
We provide our customers with the highest level of customer service. We are trained and experienced in all aspects of junk removal, so you are assured that we can give the most accurate estimate of your junk removal needs.
Your Satisfaction is our Mission
Customer satisfaction is our number one priority. If there is anything at all that we can improve upon, please let us know! We pride ourselves on providing the best junk removal service in Charlotte and the surrounding areas and want to ensure every customer has a positive experience.
We treat each customer with respect and dignity while respecting their property and privacy.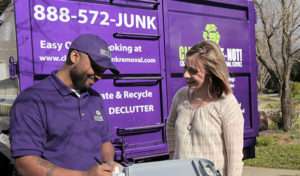 We'll Take Anything, Anywhere
Clutter Me Not Junk Removal has the capacity to accommodate any job at the most reasonable price. There are many types of junk, and we'll take it all! Our services include the following:
– Home preservation
– Gravel grading and yard grading
– Backfilling and swimming pool removal
– Dirt, gravel, and mulch delivery
– Mattress disposal in Charlotte
– Light demolition, such as swing sets and sheds
We can remove old furniture, broken appliances, trash, and debris from any room in your home or business. We also do yard cleanups for those who need help ridding their property of leaves and branches after a storm. What else makes us the best junk removal service in Charlotte – we take almost anything you throw at us, from old furniture to broken appliances, yard waste, to construction debris!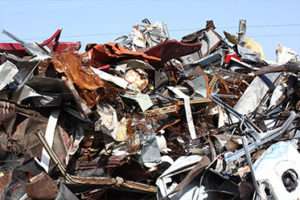 Trust Us We Offer the Best Price for Junk Removal in Charlotte
We pride ourselves on being the most trustworthy junk removal company in Charlotte. We are dedicated to serving you with patience, kindness, and determination. We understand the stress and frustration you endure when there is a lot to clean up; that is why we show up on time, are motivated, and are prepared to stay until the job is complete. We are passionate about the work that we do for you. So you can trust that we are the most sincere and honest junk removal in Charlotte because we desire to collect your junk and make you happy when we do what we do best for you. Call us now for your junk removal needs! You will be glad you did.
Clutter Me Not Junk Removal, your Most Affordable Pricing in Charlotte.