Junk Removal Items Samples
Clutter-Me-Not! Junk Removal is a leading "junk removal company" in Charlotte that provides fast, reliable, and affordable services to meet all of your "junk removal near me" needs. Whether you need to clear out your basement, garage, or attic, our team of strong and able-bodied crew members is ready to take on the task. We accept any non-hazardous item that two people can lift, so you don't have to worry about whether or not we can handle your junk.
Here is a list of common non-hazardous items that junk removal companies typically handle: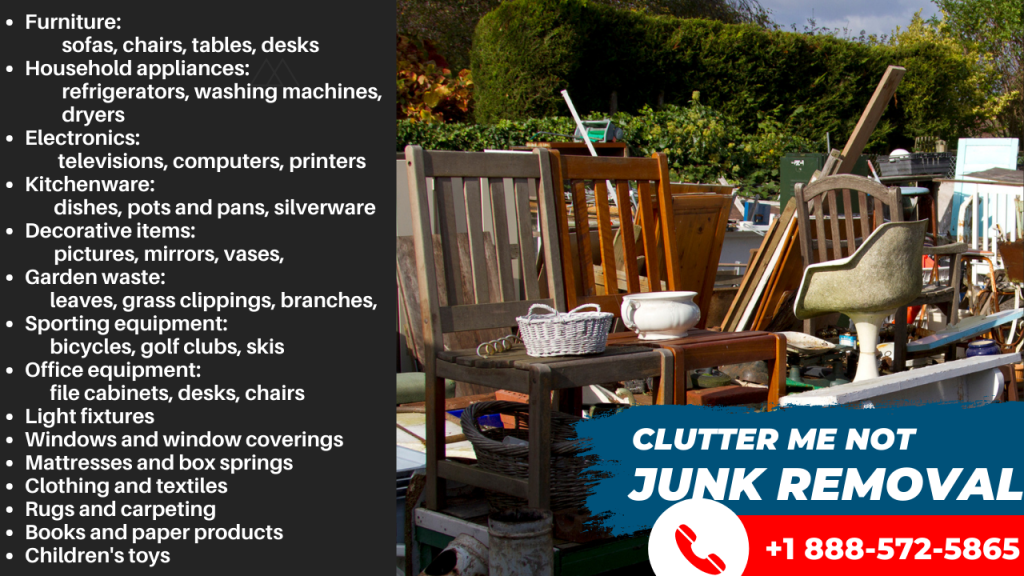 Our friendly and uniformed team is always ready to provide exceptional customer service. We will call you 15-30 minutes before our scheduled 2-hour arrival time so you know exactly when to expect us. Once we arrive, point out the items you need to be removed, and we will provide you with an upfront, all-inclusive price with no hidden fees or surcharges.
At Clutter-Me-Not! Junk Removal, we understand that removing junk can be stressful and time-consuming. That's why we make it our top priority to provide you with a hassle-free experience. Our team will carefully remove the junk from its location and leave the area clean and tidy. Your time is precious, so we always want to ensure you can return to your day-to-day routine as quickly as possible.
We also believe in doing our part for the environment. That's why we recycle and donate your items whenever possible. We understand the importance of reducing waste and preserving our planet, and we want to help you do the same. So whether you need to remove old furniture, electronics, or household items, we will ensure that everything is disposed of responsibly.

In conclusion, if you're looking for the best "junk removal near me" in Charlotte, look no further than Clutter-Me-Not! Junk Removal. Our team of experienced junk removal experts is ready to provide you with top-notch customer service and reliable junk removal services. We believe in making your life easier and providing a stress-free experience. So call us today to schedule your junk removal appointment and discover why Clutter-Me-Not! Junk Removal is the best choice for "junk removal in Charlotte."